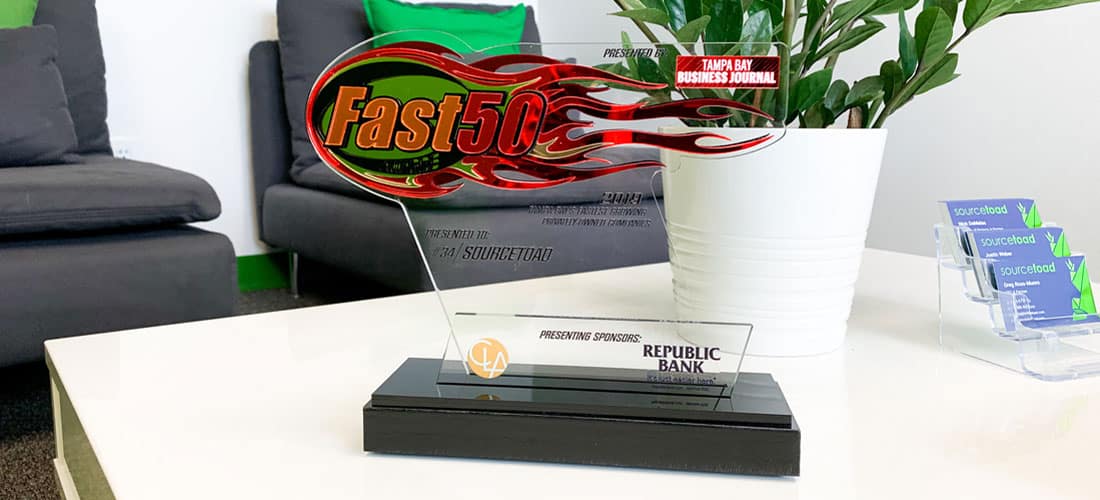 FOR IMMEDIATE RELEASE
TAMPA, Fla. — July 26, 2019 — Sourcetoad, an enterprise software development firm specializing in the cruise industry, was selected by the Tampa Bay Business Journal as one of the city's fastest growing privately-owned companies at the annual Fast 50 event held at Armature Works in Tampa Heights.
Sourcetoad ranked as #34 on the 2019 Tampa Bay Fast 50 list. The Tampa-based company was also recognized by Inc. in 2018 as one of the 5000 fastest-growing companies in America with a ranking of #1523.
Greg Ross-Munro, CEO of Sourcetoad, said that concentrating on a specific industry niche and hiring top talent is what led to the company's immense growth this year. During a recent interview, Ross-Munro also said that having a client-centric focus is critical for rapid growth. "We actually deliver on what we promise our clients. There is no better new sale you can make than to an existing client who's just impressed with your work and keeps coming back."
Sourcetoad plans to launch software platforms on two new cruise fleets and anticipates hiring more employees to keep up with the expansion.
---
About Sourcetoad
Sourcetoad is a technology consulting and innovation company. They specialize in delivering web and mobile applications, desktop software, and smart TV interfaces to the cruise industry. Their domain expertise in cruise software has helped their clients launch complex projects around shore excursions, hotel booking, onboard management, and customer-facing web and mobile applications. They are the developers of Cruise Director, a platform for managing all onboard passenger-facing systems across a fleet.