Develop HIPAA-Compliant software for your business' digital transformation
With the global COVID pandemic driving rapid changes in patient and workforce expectations and the transformation to value-based care well underway, companies across the healthcare system are being forced to digitize services and processes faster than ever.
Sourcetoad can help you develop custom, scalable HIPAA-compliant technologies that are both long-term sustainable and simple to operate and maintain.
We love to develop tech solutions for Healthcare and Medical.
Expertise
We've been building software applications for more than 15 years and understand how to transform various stakeholder demands and HIPAA requirements into effective technological solutions.
Whether you're looking to automate processes to gain efficiency or provide an online or remote version of your services, our team has years of experience developing, implementing, and maintaining successful projects like yours.
True Partnership
We co-create solutions with our clients in a culture of mutual accountability and frequent, direct communication. Sourcetoad is your partner throughout your digital journey, bringing you new ideas to meet rapidly evolving market needs so you stay proactive and competitive.
As your partner, we believe in complete transparency and alignment around data security and privacy, legal and regulatory compliance, and long-term product viability. Sourcetoad has worked on a wide variety of healthcare projects including prescription management tools, EMR integrations, pharmacy delivery applications, physician training systems, locum tenens sourcing, and recovery management platforms.
Agile Execution
Sourcetoad follows Agile development principles to deliver a custom and adaptable solution that can keep up with ever-changing requirements.
We also serve as your product team, working directly with your internal experts and helping you to deliver innovative technology without having to micromanage a development team.
Solutions for Healthcare and Medical
Our capabilities include HIPAA-compliant technologies for operations and patient-facing solutions.
Custom Software Development
Mobile Aplications Development
Proof-of-Concept Design and Prototyping
Custom Telehealth Software Application Development
Remote Maintenance IoT Solutions
Scheduling App Development
Process Automation Software Development
Custom Training Software Development
Client Study – Baxter Medical Healthcare
Demonstrating Tangible Cost Savings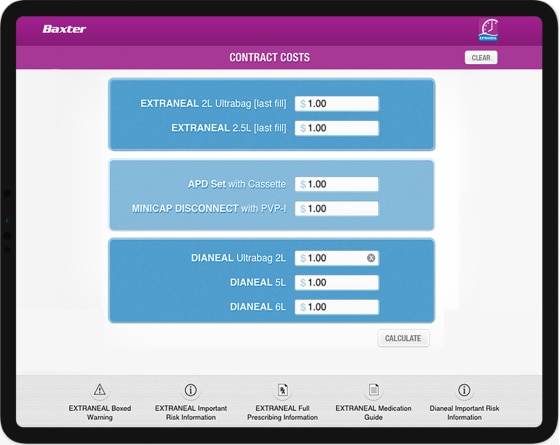 Development of Innovative Sales Tool and Calculator Application
To bridge this communication gap, Sourcetoad developed an innovative sales tool and calculator application specifically designed for Baxter's mobile sales representatives. This intuitive "application device" was optimized for iPads, ensuring that sales reps could effectively use it during their meetings with potential clients.